Facebook

Twitter
Youtube
Tumblr
____________________________________________________________
Ok last time we had fun with
"Draw YOUR OC contest"
Lot of you enjoyed and joined!
I saw many great designs and it was a really good experience!
That's why this time I wanted to repeat it with my OCs. However I chosen only one of them.
The one I'm more attached with this period of time.
Draw MY Original Character contest
Contest deadline: 30th November 2014
_

A little explanation of the subject:
The subject of this contest is about my Original Character.
So I'll introduce you my Titanic OC Luj. I'd like to see her draw by you! In your different styles!
If you wish to add also others Attack on Titan characters is perfectly ok!
Just remember: she loves Levi, and she likes to spend time ONLY with Scouting Legion members (Of course with Rivaille Heichou, Erwin Dancho, Elad, Petra, Orlo, Gunther, Hanji and Mike. If you don't know them it's ok).
She hates to death Annie's titan form (epic battles between them LOL!)
EXAMPLE: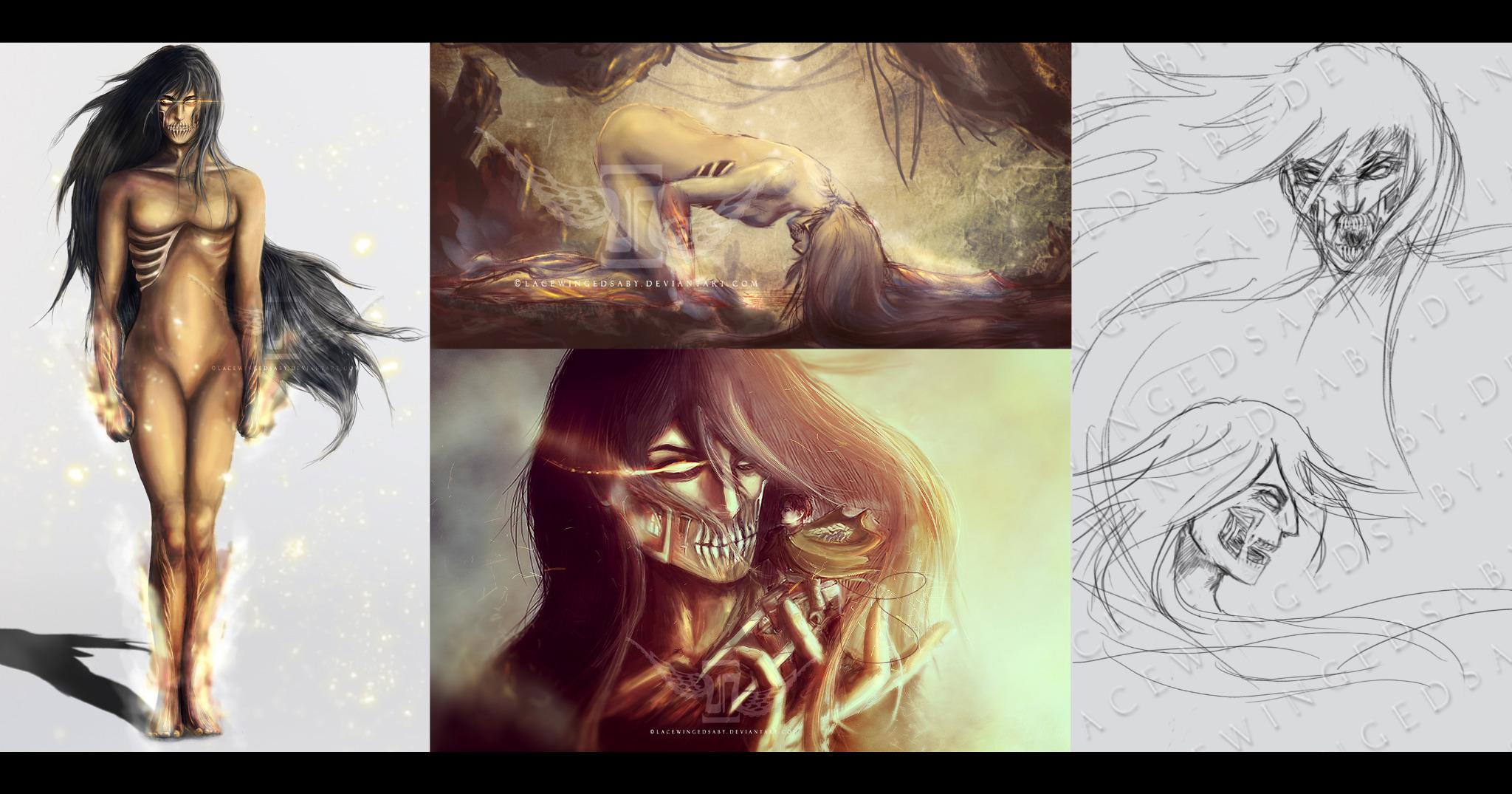 For big images you may check
here
and
here
other images as u may see are just
sketches or WIPs

Main story+temper
Luj is a
"Fire and Fury"
Titan.
Why?
Because her element is fire of course!
Her nature is really rough.
She is

irascible

,

stubborn,

sullen

and suspicious

.




Luj doesn't like

to be around normal people nor titans

,

but

she is weirdly in love with

Levi

(

Rivaille Heichou

)




That's why

one of

my

artwork

is called

"Forbidden

Love

"

.


She took part

of the

Scouting

Legion

as a normal girl, discovering meanwhile to be a full weapon

of

attack.


However
even though her
nature
is not the best
she is able to give her life to save
members of the

Scouting

Legion

,

who welcomed her

as a daughter

.
She's
loyal
and sometimes
likes to
play with her
titanic

abilities.
Body info
Her
forearms
and
part of her legs
are
burned
,
her body emits
constantly
fire
from her hands and
feet,
from
medium to high
intensity
, depending
on how
angry
she is.
Her eyes are always fire glowing. She doesn't have any pupils. Her
jaw

is exposed

and so are

her

teeth

, she has no

lips
.
She doesn't have a big breast, instead, she has a small one.
The right ribs are fully exposed, she hasn't skin in that place.
She has long black hair, which uses as blades.
During her "level up" she may
harden
the tips
of her
hair, making
razor-sharp
.
Also about the
LEVEL UP
concept is something when she is able to give up on her human mind and release only the titanic instinct (it often happens when she is totally pissed off!)
I still have to draw the concept. But I'd like to make her with full burned body
crossed by
tongues of fire..
_
This contest allows media such as:
Digital paintings and 3D

(preferible if possible)
+
Traditional and Crafts

(however not being a traditional or craft artist I will not be able to fully jugde your work in the best manner as possible)
Please
NO PHOTOMANIPS
_
How to participate?
In order to participate

this journal.
If you wish to follow updates also

me
Post your entry to deviantart, link back to this journal in the artists comment
and leave below your comment with the link of your submission.

I will put your entry in the contest folder.
All entries can be found here:
lacewingedsaby.deviantart.com/…
(1 entry per deviant)
Important:
You submission must be all yours
and if you use brushes etc. the resources should be credited in the artists comments.
I will accept
only deviations that are made for this contest
. Older deviations will be disqualified.
_
Judging:
LaceWingedSaby
will judge the entries on different levels:
Capacity to capture OC's nature/temperConcept art creativity/idea
and execution
.
About the last one I want to add that
I take it seriously in consideration.
You have so much time to make a great piece, so please, show me all your talent + efforts.
_

Prizes:

(NB. Each entry will receive a Feature on
Facebook Official Page
per day with my thanks and comment! So everyone will have a prize for joining!)
1st place:
By LaceWingedSaby
50

+
+ Free 3D render with your OC (in case you have the xnalara model)
OR
Free digital painting portrait with your OC (in case you don't have the model) + Feature on
Facebook Official Page
By vaniaelee
15

+
By FluffySloth-Adopts
+ A free custom adoptable

By FlaminiaKennedy
+ A free Full Colored OC Chibi version
By
Thalliumfire
A free simple artwork
2nd place:
By FlaminiaKennedy
30

+
+ A free Chibi without background
By vaniaelee
10

+
By LaceWingedSaby
+Feature on
Facebook Official Page
By FluffySloth-Adopts

3rd place:

By FluffySloth-Adopts
20

+


By vaniaelee
5

+
By LaceWingedSaby
+ Feature on

Facebook Official Page



By FlaminiaKennedy




_

We are open for donations, so your name can be on this list. Just let me know if you can donate points, journal features, llamas or anything else.
It would be greatly appreciated. The prize list will be updating.
_


Have fun and good luck!





__



Anyway I want again to thank you all, more than 800 watchers members of Legion of Souls!
Makes me proud to be here!




____________________________________________________________
COMMISSIONS INFO: lacewingedsaby.deviantart.com/…